Make your own vanilla syrup and enjoy that coffee shop flavor at home!
Starting with your favorite coffee or cocoa beverage, add this delicious vanilla syrup (and cream, if you prefer) to achieve a delicious "coffee shop" beverage at home.  This flavored simple syrup recipe is also perfect for sweetening iced coffees and cocoas.
Before you get started, you will need to find a bottle to put the flavored syrup in.  A few options are to use  Ball jar, olive-oil, salad dressing carafe, syrup dispenser, wine or liquor bottle, or stop by your neighborhood coffee shop and ask if they will save you one of their flavored syrup bottles.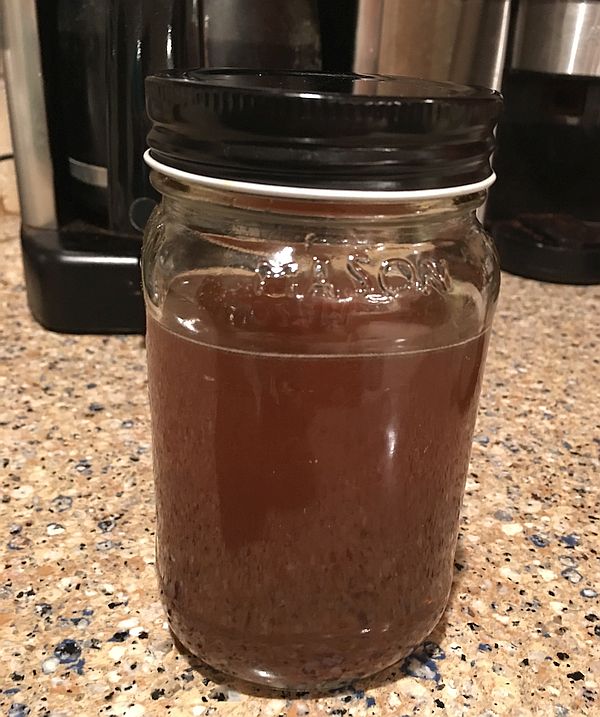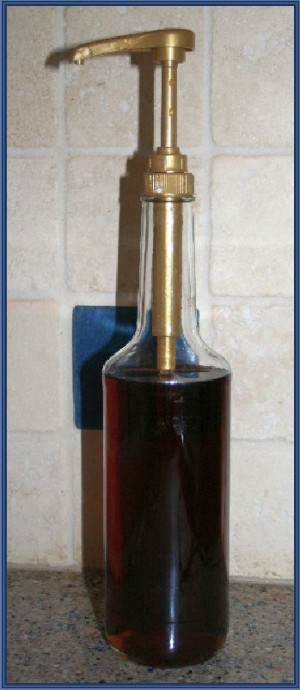 The bottle you choose will need to be cleaned and sanitized.  A good wash and dry in the dishwasher should do the trick.  You will also want a sufficient lid, pourer or pump.  I used an old Torani syrup bottle and a Torani pump that I purchased from World Market.  This way I can measure the same as they do in my local coffee shop.
Vanilla Syrup Recipe
Ingredients:
2 cups of granulated sugar
2 cups of water
½ tsp of sea salt
3 tsps pure vanilla extract
Directions:
Over medium-high heat, bring the first three ingredients to a slight boil then reduce heat to simmer for about 10 minute. Stir the syrup often until all of the sugar is completely dissolved. (This step can also be completed using a large glass measuring cup or a Ball jar – heat in microwave on high for about 2 minutes – watch so it does not over flow)
Remove from heat and add the vanilla, then stir.
Allow vanilla syrup to cool to room temperature and then pour into a sanitized bottle, using a funnel, if needed.  Add the pump and you are ready to go!
Hints:
Both granulated cane sugar and granulated raw Turbinado sugar will work well with the syrup; they both are very flavorsome.  It is simply a matter of personal taste as to which one you choose to use.  The raw Turbinado sugar may result in slightly stickier syrup and may tend to clog the pump a bit more than the pure cane sugar.
Do not allow syrup to come to a hard boil or be allowed to cook too long; the sugar may begin to crystallize.
Using a Torani syrup pump or shot glass the measurements are as follows (adjust to personal taste):
Measuring/Dosing:
 12 beverage oz = 3 pumps or ~ ¾ ounce of syrup
16 beverage oz = 4 pumps or ~ 1 ounce of syrup
20 beverage oz = 5 pumps or ~ 1 ½ ounce of syrup
I have successfully stored the vanilla flavored syrup on my counter for up to two weeks; however, if exposed to warmer temperatures, or if not used within two weeks, you may want to keep the syrup refrigerated.
Once you have perfected your vanilla syrup, go ahead and experiment with some other flavors; I plan to!
Now you can impress your friends by being a barista at your next dinner party; serving coffee or cocoa flavored with your own homemade vanilla flavored syrup!